Co si dáváte v cukrárně vy? U nás vyhrává věneček. Vždycky. Žloutkový věneček s cukrovou polevou nahoře je naší stálicí, kterou si můžeme objednávat pořád dokola. Pravda, ne vždycky je to ten nejskvělejší chuťový zážitek a často se nám stává, že se prvek věnečkového očekávání mísí s prvkem zklamání, ale stejně si při návštěvě další cukrárny poručíme stejně: "jeden žloutkový věneček, prosím!"
A protože se teď do cukrárny nedostaneme my ani vy, protože je Valentýn a protože věneček je láska, chceme se s vámi podělit o tento věnečkový recept. Na ten totiž dostaneš každou/každého.
Tato verze je klasikou všech klasik. Pokud se ale chceš blejsknout před svou drahou polovičkou, klidně na plech místo koleček nastříkej srdíčka a povrch srdíčkových věnečků posyp sušenými malinami. My se ale teď nebudeme pouštět do žádného valentýnského bláznění a představíme vám věnečky tak, jak je milujeme my.
Vyzkoušeli jsme několik receptů, ochutnali spoustu druhů krémů, listovali francouzskýma knížkama s luxusníma fotkama vanilkových dezertů podobných našim věnečkům a… (a nesuďte nás) …skončili jsme u pudinkového krému. Ano. Toho z pytlíku. A než nás zavrhnete, dejte tomu šanci. Fakt.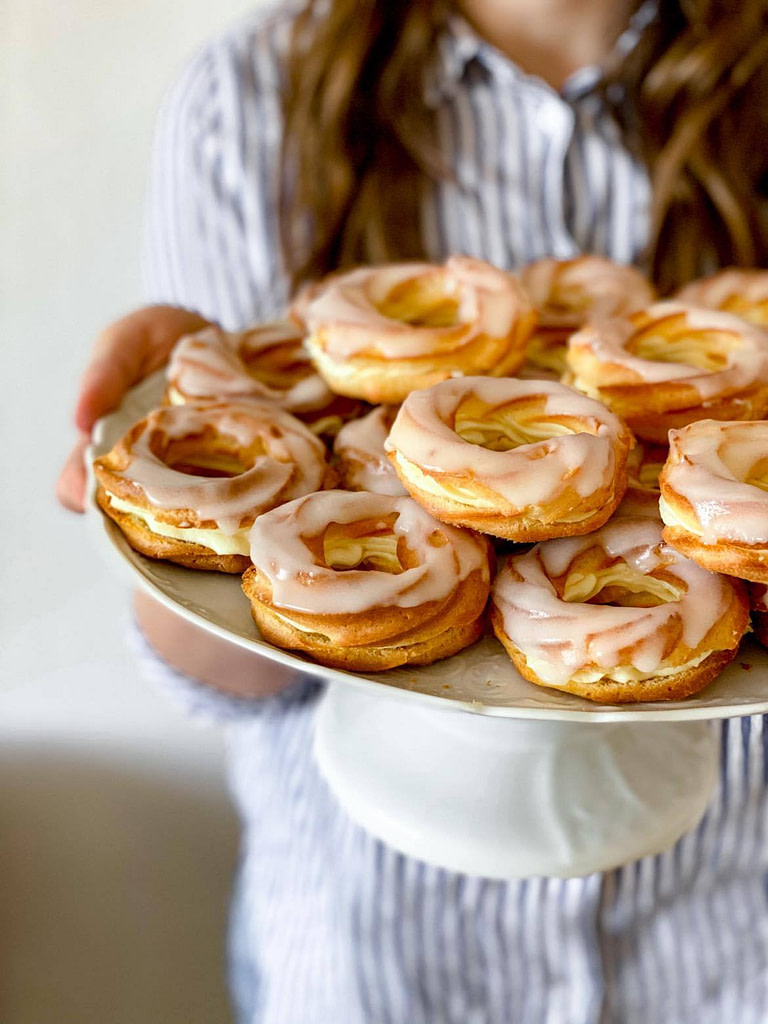 Na 30 věnečků si připravte:
Na těsto:
65 ml vody
100 ml mléka
15 g krupicového cukru
dvě špetky soli
65 g másla
130 g hladké mouky
4 vajíčka velikosti M
Na krém:
1 sáček vanilkového pudinku
semínka z vanilkového lusku
4 lžíce krupicového cukru
250 g mléka
20 g rumu
200 ml smetany ke šlehání (ideálně 40%)
Na cukrovou polevu:
150 g moučkového cukru
šťáva z půlky citronu (asi 20 g)
Nejprve se pusťte do přípravy krému:
Ve třetině množství mléka rozmíchejte pudinkový prášek, vanilku a cukr.
Zbylé dvě třetiny mléka přiveďte k varu a do vřícího mléka vlijte pudinkovou směs. Za stálého míchání nechejte pudink dvě minuty provařit, přidejte rum a stáhněte z plotny. Hustý pudink přelijte do mísy a přetáhněte potravinovou fólií (fólii připlácněte přímo na povrch pudinku, aby se nevytvořil škraloup). Základ na krém je hotový. Než se k němu vrátíte, vychlaďte jej.
Zatímco se chladí pudinkový základ na krém, vrhněte se na těsto:
Troubu předehřejte na 200 stupňů.
Do většího rendlíku nebo hrnce nalijte odměřené množství vody a mléka spolu s cukrem, solí a na kostky nakrájeným máslem.
Hrnec postavte na plotnu a jeho obsah přiveďte k varu. Jakmile směs probublává, vsypejte do ní hladkou mouku. Pěkně najednou. Snižte teplotu a vařečkou rychle vmíchejte mouku do tekuté směsi. Neděste se – bude to rychle houstnout. Ale právě tohle chceme. Vařečkou stále míchejte a vytvořte z těsta kouli, která se nelepí ke stěnám hrnce. Po dvou minutách míchání přendejte těsto do mísy a nechte lehce vychladnout.
Do vychladlého těsta (postačí 3-5 minut) přidejte vajíčka. Pěkně postupně. Jakmile do těsta zamícháte jedno vejce, přidejte další… Jakmile do těsta zapracujete všechna vajíčka, vznikne krásná lesklá hmota. Touto hmotou pak naplňte zdobicí sáček (do kterého jste předem vložili zdobicí špičku) a vrhněte se na tvorbu věnečků!
Na plech vyložený pečicím papírem tvořte věnečky, věnce, srdíčka, srdce… prostě tvary tak velké a nápadité, jak je libo. Pamatujte jenom na to, že se tvary při pečení ještě nafouknou, a tak mezi jednotlivými věnečkovými výtvory nechejte dostatečné rozestupy.
Tip: Ještě před pečením plech pocákejte trochou vody. Voda vytvoří v troubě páru a věnečky se krásně nafouknou.
Plech s věnečky vložte do středu vyhřáté trouby a ihned teplotu stáhněte na 180 stupňů. Věnečky pečte přibližně 20 minut (v závislosti na velikosti tvarů) a během pečení neotevírejte dvířka trouby. Pokud byste nevydrželi a věnečky vytáhli příliš brzy, těsto by spadlo a místo nafouklých buclatých vypečených věnečků byste měli plech plný věnečkových placek. Pečte tedy opravdu dlouho (dohněda) a odolejte pokušení zkontrolovat stav věnečků v průběhu pečení.
Upečené věnečky nechte vychladnout na plechu a potom je pilkovým (zubatým) nožem podél rozřízněte.
Zpět ke krému!
Pudinkový základ vyšlehejte ručním šlehačem dohladka. Stačí necelá minutka. Bez prošlehání by byly ve výsledném krému hrudky, což by byla škoda.
Šlehačku (měla by být pořádně vychlazená) vyšlehejte dotuha a lehce ji stěrkou vmíchejte k pudinku. Tradá, krém je hotový.
Blížíme se do finále! Zbývá příprava cukrové polevy:
Moučkový cukr smíchejte s přecezenou citronovou šťávou. Pokud chcete, aby se poleva hezky leskla, přidejte do polevy trošku rostlinného oleje.
Grandfinále: kompletace:
Věnečky plňte připraveným pudinkovým krémem. Použijte k tomu opět zdobicí sáček se zdobicí špičkou. Na spodní část věnečku naneste připravený krém, vrchní část věnečku zlehka namočte do připravené polevy a pak ji vraťte zpátky na vrstvu krému. Věnečky šoupněte aspoň na hodinu do lednice, aby se pořádně vychladily. Další postup je na vás. Enjoy!